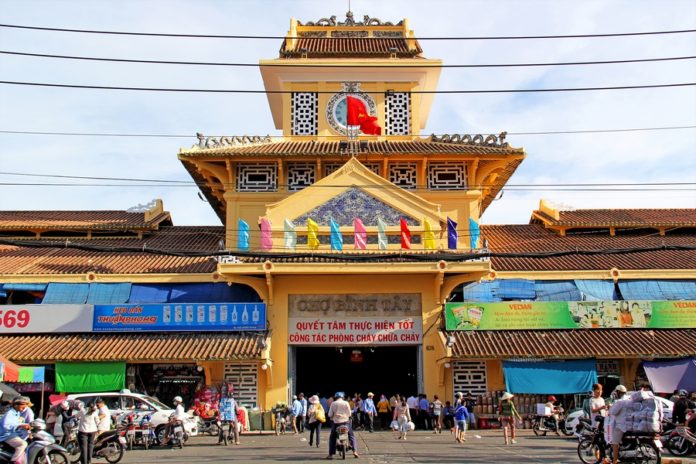 Binh Tay Market, constructed by the French in the 1880s, is located in the centre of Vietnam's largest Chinatown district. Unlike Ben Thanh Market in District 1, this market mainly serves the local population with its extensive range of fresh fruits, vegetables, poultry, meat and seafood from regions across Vietnam.
Also known as Cholon Chinatown Market, Binh Tay Market occupies a two-storey building along Thap Moui Street. Travellers can also find an assortment of handicrafts, lacquerware, and textiles that are sold in bulk, though goods are not varied compared to other (more touristy) markets in downtown Hanoi. Along with the interesting historical and cultural aspect of Cholon, Binh Tay Market is great for experiencing the local lifestyle and sampling unique Vietnamese-Chinese delicacies.
A popular breakfast spot amongst locals, there are plenty of food stalls selling Vietnamese staples in the market including pho noodles, goi cuon (spring rolls), and com tam (broken rice) as well as Chinese-influenced delicacies such as banh bao, which are steamed buns filled with pork or chicken, onions, eggs, mushrooms, and vegetables. A courtyard is set the middle of the marketplace, where you can find a stone altar commemorating Guangdong-born philanthropist Quach Dam.
Binh Tay Market is accessible within a 15-minute xe om (motorcycle taxi) ride from downtown Ho Chi Minh City. The best time to visit is in the morning as that's when the locals come for breakfast and shop for fresh produce and household supplies.
Opening Hours: Daily 08:00 – 17:00
Address: 57A Thap Moui, District 6, Ho Chi Minh City