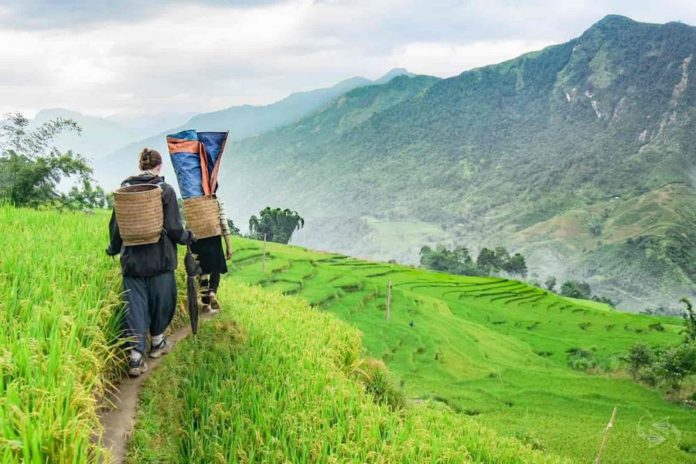 After the overnight train through the darkness, you will be taken to Sapa – the colorful town in Northwest of Vietnam with spectacular landscape and unique culture of the minority groups. All are waiting for you to experience!
1. Speak English with the Hmong
On the way from Lao Cai train station to Sapa, you will see groups of the Black Hmong people and they will appear in each of your walk, everywhere in the market, main street and the population will seem predominantly Black Hmong from the surrounding villages. They all wear beautiful traditional costume from men to women, children to adults, not just to show tourists or show off in Sapa market, it is in their tradition. These people are very skilled at selling souvenirs and in fact most of them can speak very good English as their first language, therefore try to catch one of them and they will be your tour guide with just a little cost.
2. Go trekking
Trekkers will be impressed by Sapa's beautiful view of the terraced rice paddies and unique interaction with many hill tribes. There are some options for you to choose, ranging from easy trek, medium and hard trek. None of those will let you down, but you have to spend at least 2 days to complete the hike and hiring a trustworthy local who knows and understands the routes is essential.
3. Walking through the villages
There are lots to see and do around the city of Sapa, such as exploring cultural villages as Cat Cat villages, Ta Phin village, Sin Chai village with many interesting activities relating to traditional sports, or they can try becoming experts in textile weaving and dying to see how the locals make flora. Not only villages, the romantic waterfalls here are must-see places for tourists, such as Thac Bac, Cat Cai, Lanh, Tinh Yeu and Nam Cang, or at the foot of Fansipan, there will be wonderful waterfalls such as Ta Lam, Na Pao, Dau Nhuan and Tac Tinh.
4. Love market
The local markets here in Sapa are unlikely anything you've ever seen elsewhere in Vietnam. There are absolutely no shopping malls, instead, people will see genuine country market, with traders come here to exchange and trade goods and products. The market season is famous mostly because it is called "love market", wherein young boys and girls with colorful costumes from the minorities go to town seeking partners.
5. Stay in traditional houses
It seems like normal with local people when strangers can come and observe their daily activities. Just to ask some questions, people will receive polite and friendly answers with nice smile and happy eyes open. "It is featured on the cultural identity of the people; they are hard-working with their work, not just following tourists all day long. Most foreign visitors like "home-stay" with local people because eating, staying and serving is not as important as the experiences" – said Phuong, a tour guide from Eviva Tour Vietnam. That was also the psychology of many foreigners, choosing "home-stay" instead of luxury, comfortable resorts. "Like before, I loved to take the tour to visit villages and then come back, but now, I would rather staying in the village to dig deeper into the tradition of the Vietnamese minorities" – said Adeline, a French tourists that visited Sapa twice.