Last week, I went to Hai Phong to meet my old friend – John. We hadn't met for years. My business trip ended sooner than I thought, I decided to spend time to visit Hai Phong before back to England. I was surprised when we met again. He almost didn't change at all. The last time we met was the graduation ceremony 5 years ago, he said he might move to Vietnam and he did.
John told me lots of the city he was living. How simple it was, how friendly people were. I was really happy for him. He looked pretty happy.
I only had 1 day in Hai Phong, I was worry that I couldn't visit the whole city but he told me that 1 day was enough. Well, in the end, my trip was actually a food trip.
I set food on the trip at 9:00 pm, took a taxi to my friend home. It was quite late, he and his daughter took me out to eat something. We chose a diner on the sidewalk. In Hai Phong, there hadn't many restaurant, most of the people here sold food on the sidewalk. I ate Bun Ngan (geese noodle). It tasted quite strange but good strange, you ate geese with special spicy soy sauce.
Then we got by a sweet gruel diner. His girl called corn sweet gruel. It was fresh, delight, delicious. That was th most delicious dessert I had ever ate in my life.
The following day, I ate Hai Phong 's delicacy – Banh da cua (Asia crab noodle). It had sweet crab, delight soup but not be fishy. The main ingredients were: noodles, crab, water spinach, … John said this dish was one of things must eat in Hai Phong. We chose a restaurant to eat Banh da cua near a accessory store named Eviva.
In the afternoon, I visited a small lane, this was cuisine paradise. There had more 10 difference dishes in a small lane: mien tron tom (Soya noodles with shrimp), nom bo kho, aga sweet gruel,…
We walked for a while and we met a food stall located in the heart of a sidewalk. John told me that they were selling Banh duc tau. It was 4:00 pm, the sidewalk was full of people; youngs, olds, children, parents went by and stopped to eat a bowl of Banh duc tau before going home. The food stall sold not only Banh duc tau but also sold soya milk with jelly. Banh duc tau and soya milk were perfect match.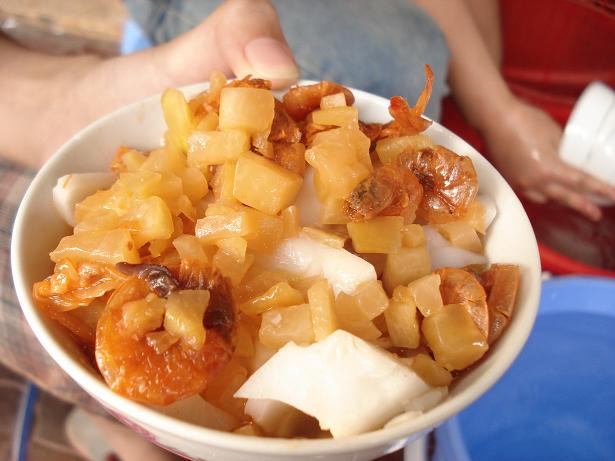 My food trip ended with a cream cake and a cup of daisy tea. Hai Phong people drunk daisy tea and ate chestnuts as a special hobby in their city.
I definitely came back to this beautiful city to meet my dear friend John and visit more destination in Hai Phong. I would save all the memories and the flavor for a long time after.