Arrivals
Upon disembarking from your plane you walk down a short corridor to the Immigration area. If you need to pick up your Visa on Arrival head to the VOA desk, fill in the form and hand them your passport. You shouldn't have to wait more than 15 minutes to get your passport back with the visa stamped inside however it may be a little chaotic if there are a lot of people. Through immigration, the baggage claim is just a few metres away. Here there is a duty-free shop should you wish to pick up some items.
Customs clearance is just on your right. It is important to note that after you collect your baggage you will need to present the remaining portion of your baggage stub, which is attached to your airline ticket, to the attendant to prove you have your correct luggage.
After passing the customs clearance there will be ATMs and a currency exchange booth on the right-hand side just out of the passenger zone. It is a good idea to get some local currency at this point in order to pay for your transportation.
Departures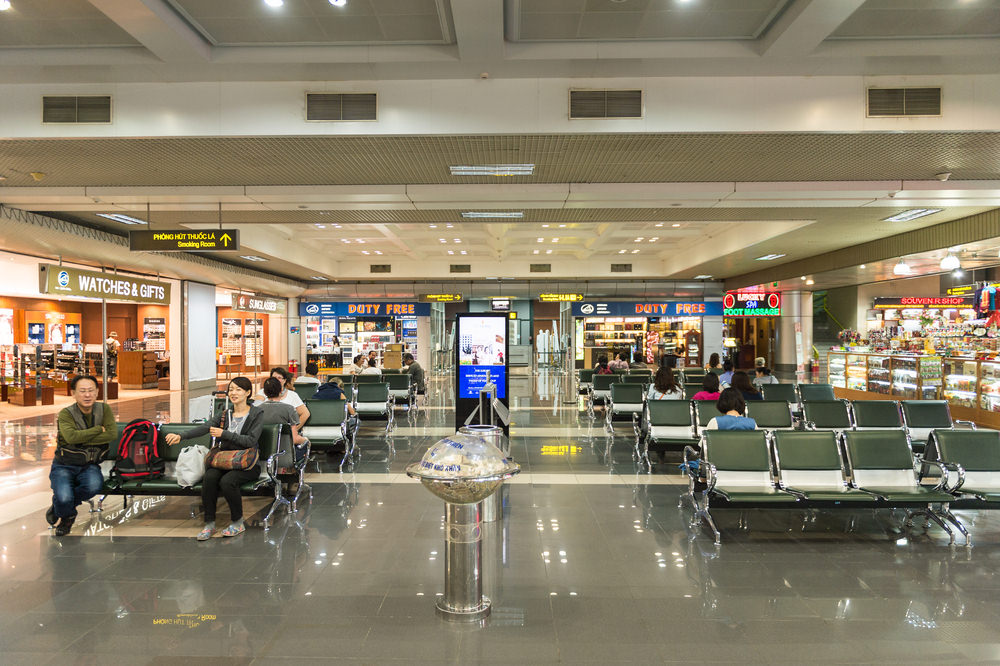 When you arrive at Noi Bai International Airport you enter through the first floor domestic terminal. Here your luggage will be screened before you head to the international check in counters. After checking in, go through to the Immigration area on the left. After passport control there is one more security check point before you enter the Departures Lounge.
Transport Options
Noi Bai International Airport is located approximately 45km north of Hanoi. The journey takes around 40 minutes and there are a few ways to reach the city.
The Hanoi city bus services 07 and 17 depart from the bus stop located just outside the arrivals terminal from 5am to 10pm. The trip costs 5,000 VND and will take about an hour. If you have oversized luggage you may not be permitted on the bus. The number 07 bus takes you to Kim Ma bus station and the number 17 goes to the Long Bien bus station.
Airport taxis charge a fixed price of 250,000 VND to travel in to the city this is including toll fees. The taxi ride takes about 40 minutes and it is advised that you always use an official taxi i.e. one with their photo, name and license number clearly displayed. Taxis are located right in front of the Arrivals exit gate.
The airport minibuses cost 30,000 VND and leave from right outside the Arrivals exit gate however you may have to wait until the bus is full before it departs.
Travellers flying with Vietnam Airlines have the option of using the free shuttle bus service which connects passengers with downtown Hanoi.
Eating & Drinking
There are cafeterias located on all floors of the terminal building both street side and airside. As with most airports these eateries can be a little expensive and the meals are rather basic. If you are in need of some hearty food you had better eat before you leave Hanoi however if you would like a light meal, cold beer or hot cup of coffee you will find the airport cafes and restaurants quite adequate.
Entertainment/Activities/Facilities
The cafeterias on the second and forth floors have Internet access and wireless internet access is available throughout the departures lounge. Apart from this and the usual bank of TVs showing international news and local television programmes there is little in the way of entertainment at Noi Bai International Airport.
The departures area has a First Aid centre and pharmacy on the first floor located close to an Information and Help Desk. The first floor also houses an ATM, currency exchange and bank.
Shopping and Duty Free
There are quite a few souvenir shops, duty free shops and smaller 'department' stores within the airport. Prices can be a little steep and you need to be wary about exchange rates as often prices are quoted in VND but charged in US dollars. There is a good selection of regular duty free items including alcohol, perfumes and cosmetics, chocolates and some electronic goods.