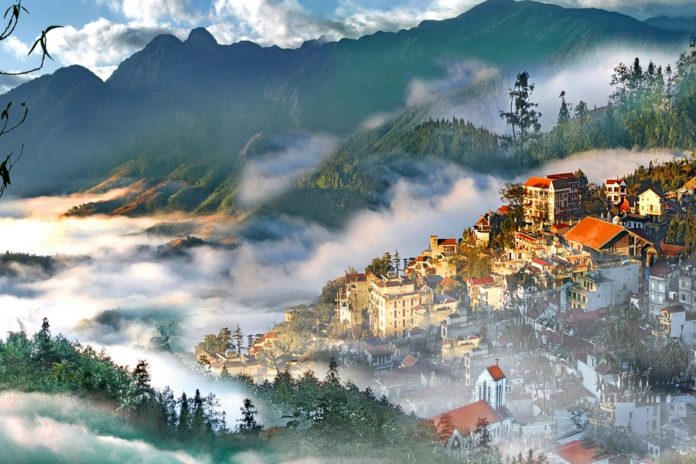 Located 38km from Lao Cai City, Sapa is a mountainous district of Lao Cai Province. Sapa District is very well-known with Sapa Townlet, a beautiful and romantic resort.
At the height of 1,600m above sea level, the average temperature of the area is 15-18oC. It is cool in summer and cold in winter.
You can to Sapa in summer can feel the climate of four seasons in one day. In the morning and afternoon, it is cool like the weather of spring and autumn. At noon, it is as sunny and cloudless as the weather of summer. And it is cold in the evening. With no advance warning of a thunderstorm short and heavy rains may come at noon on any summer day. Subsequently, a rainbow appears, transforming Sapa into a magic land, which for years has been a constant source of poetic inspiration, lights up the whole region.
The best time to witness the scenic beauty of Sapa is in April and May. Before that period, the weather might be cold and foggy; after that period is the rainy season. In April and May, Sapa is blooming with flowers and green pastures. The clouds that settle in the valley in early morning quickly disappear into thin air.
Sapa has many natural sites such as Ham Rong Mountain, Silver Waterfall, Rattan Bridge, Bamboo Forest and Ta Phin Cave. Sapa is also the starting point for many climbers and scientists who want to reach the top of Fansipan Mountain, the highest mountain in Vietnam at 3,143m. Hoang Lien Mountain Range is also called the Alps of the North Sea area since Fansipan Mountain is not only the highest peak in Vietnam, but also in the Indochina Peninsula. The pyramid-shaped mountain is covered with clouds all year round and temperatures often drop below zero, especially at high elevations.
The first thing you notice when approaching the resort town are some detached wooden mansions and villas perched on a hill top or hillside, behind thick pine forests and almost invisible on this foggy morning. Old and new villas with red roofs now appear and now disappear in the green rows of pomu trees, bringing the town the beauty of European towns.
Fresh and cool air in Sapa is an idea climate condition for growing temperate vegetables such as cabbage, chayote, precious medicinal herbs, and fruit trees such as plum, pear…
Sapa is home to various families of flowers of captivating colours, which can be found nowhere else in the country. When Tet, the Lunar New Year Festival, comes, the whole township of Sapa is filled with the pink colour of peach blossom brought from the vast forests of peach just outside the town. Sapa is regarded as the kingdom of orchids. Here, orchid lovers are even amazed by the choice, when trekking in the forest filled with several hundred kinds of orchids of brilliant colours and fantastic shapes, such as Orchid Princess, Orchid of My Fair Lady's Shoe. Some orchids are named after lovely singing birds such as the canary, salangane's nest, and more.
Sapa is most beautiful in spring. Apricot, plum and cherry flowers are splendidly beautiful. Markets are crowded and merry, and are especially attractive to visitors. Minority groups come here to exchange and trade goods and products. Market sessions are also a chance for locals to promenade and young men and women in colorful costumes to meet, date or seek sweethearts.
You can to Sapa will have opportunities to discover the unique customs of the local residents.
Memorable trip to Sapa
I had already spent months traveling in Southeast Asia and found out that instead of spending time in the big cities, traveling to rural or mountainous areas is the best way to experience the tranquility of Vietnam.
I left Hanoi by an all-day 9-hour train ride to Sapa on a cool day of August with a local guide from Eviva tour Vietnam. Most of the day, the train rolled through endless rice fields. It felt like watching a documentary film about rural life in the Northern area of Vietnam. Constant scenes played through window were farmers wearing traditional conical hats, gathering big bundles of vegetables, sowing seeds by hand, and plowing fields with water buffaloes. Roadsides are used for drying corn, rice, and hay. People slowly pedaled bicycles overloaded with reed basket or duckweed. Life pace here is as slow as the speed of our old train. The higher we went into increasingly remote mountains, the windier it was. Muddy rice fields were replaced by beautifully terraced rice and tea fields. The sight was extraordinary and breathtaking. Lush greened valleys were half hidden in mist. Thatched roofed villages of tribe people are dotting the deep valleys. Women in colourful tribal dress are carrying basket of bamboo on their back, bare-feet kids playing with homemade wooden toys.
We took short treks to nearby villages and experienced the unpredictable weather in Sapa. Within a few minutes, the weather switched from brilliant sunshine to thick fog, drizzling rain and occasionally clouds swept in and I could not see anything, even the tour guide standing a few steps in front of me. To be honest, I was panic and thought of mysterious disappearing stories. Then, in a blink of an eye, the sun was shining bright again like nothing ever happened. Visiting local markets and observing daily lives of the minority were also a remarkable part of our stay in Sapa.
Observing day-to-day basis activities of the hill-tribe people, it is easy to realize that they strongly maintain their traditions and are happy with their life. They are also easily identifiable with their dark clothing, dyed with the local indigo plants and decorated with handmade textiles. Wearing these kinds of clothes all year long, their complexion is also turned into blue-grey colour, which looks really strange.
Colorful weekend markets in SaPa
Sapa on the weekend, you have chance to get immersed in the robust marketplaces of ethnic people that usually take place on Saturday and Sunday mornings. Sapa markets only open from dawn to midday. Apart from being a place for trading, these markets also enable the ethnic minorities from surrounding villages such as Hmong, Dao, Tay, Nung … to socialize, make friends, chit chat, eat, drink and play.
Markets that have gained reputation all over the Northern highlands are Bac Ha, Can Cau, Dong Van and Yen Minh. In any of these markets, you can find out highland specialties. The most enticing and mesmerizing features are flamboyant ethnic skirts, bright smiles of young lassies and pure eyes of local children who follow their mother to these markets.
Previously, these markets were exclusive only to natives dwelling in mountainous hinterlands, yet now a favorite commonplace of travelers. It is a pleasure to join youngster on a bench, trying out local wild foods with chilling corn wine. Once arriving at these markets, few want to leave, since they are among a handful of places to give us a sight of carefree activities in the wild
I must say that everything in Sapa is extremely mesmerizing and unique. We loved the trip, and highly recommend Sapa to anyone who wants to visit Vietnam.