For outdoor enthusiasts that are craving for breathtaking scenery, Vietnam is a right place for you. Here in Vietnam, you can feel the breath of the earth and experience the breeze of fresh air. Let's deep dive into top 6 stunning trekking routes in Vietnam that urge all the brave trekkers to try.
Ta Nang – Phan Dung
Ta Nang – Phan Dung is the most attractive trekking route for trekkers in the South of Vietnam so far. The trail goes through the forested areas of three provinces: Lam Dong, Ninh Thuan and Binh Thuan.
Nearly 60 km of trekking will take you three days, crossing many streams, hills and forests, moving from the altitude of 1,100m to 500m above sea level.
Do you know why this place steals many travellers' hearts? This is a big thank you for its astonishing and picturesque natural landscapes of immense green fields, pine forests under the cloudy blue sky.
The starting point is Ta Nang or Da Quyn Commune, Duc Trong District, Lam Dong Province.
The endpoint of the journey is Phan Dung commune. From there, you can take a walk or a moto-taxi to Lien Huong intersection (Tuy Phong, Binh Thuan) to catch the bus and continue moving to Ho Chi Minh City or other provinces.
Fansipan
Regarded as the rooftop of Indochina, this 3.143 peak is the target of many Vietnamese and foreigners trekkers.
There are 3 different ways to conquer the top of the mountain, depending on trekkers' physical capability and trekking experience.
First of all, the easiest route is starting from Tram Ton that allows you to reach the mount and return on the same trail. The duration for the round trip takes 2 or 3 days.
The second route departs from Tram Ton, and returns over Muong Hoa valley and Cat Cat stream and goes along the east edge of Hoang Lien range. The total length is approximately 20 km. Therefore, this route requires you to be healthy and fit to be ready for 4 days of trekking.
Finally, the hardest and most challenging trail, which is only recommended for professionals and well-equipped, starts from Doc Mit, Binh Lu ward, to the top of Fansipan.
Hang En (Swallow Bird Cave)
In recent years, Son Doong, Tu Lan or En Cave are the in things for Vietnam and international trekkers.
Son Doong has various unusual cave formations, including huge cave pearls, towering stalagmites and phytokarst.
Meanwhile, its counterpart, En Cave, possesses a rich and diversified ecosystem. And Tu Lan Caves is where you can swim, scramble and wade to discover 6 dry and wet caves.
From Dong Hoi city, Quang Binh Province, go along Ho Chi Minh West highway and stop at Km 35th and start trekking from there. The 8m route is quite rough with many steep sections. Your journey will pass by Rao Thuong stream, Doong village (a small village of Van Kieu Minority, located deep in the core zone of Phong Nha – Ke Bang National Park).
Going deeper into the cave, once again, you can admire the Rao Thuong stream flowing in the fabulous S-shape. As you go inside the cave, you will be amazed by the scenes of majestic stalactites or swallow nests.
Ta Lien Son (Ta Lien Mountain)
2,993m above sea level, Ta Lien mountain, also known as Co Trau mountain, is located in Ta Leng commune, Tam Duong district, Lai Chau Province. The mountain is home to majestic mountain scenery with primeval forest vegetation.
It takes you 3 days and 2 nights to conquer the top of Ta Lien Mountain. The first day trek will take you about 3-4 hours and you will reach the height of 1,900m. The highest point of 2.993 m will be reached on day 2 and you should be there before 2pm so you can come back before nightfall. The second-day trek is not too tough as you will follow the local's footpath to go to the forest. As there is almost no camp on the way to the top, your stay will be spent at the rock cave of local villagers.
On the way back on the last day, you can go down to the edge of the forest, walk back to the foot of the mountain around noon time and the move to Sa Pa before late evening.
Lao Than Mountain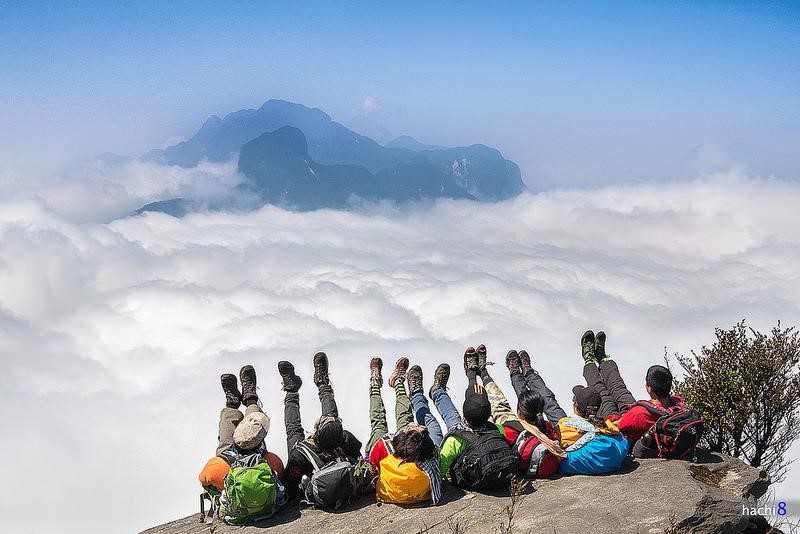 Call the name of Lao Than Mountain if you are looking for cloud hunting.
Lao Than mountain is in Y Ty commune, Bat Xat district, Lao Cai province. This is an ideal place to trek in a short time of two days and one night trip.
Your trekking journey will start at a vast vegetable farm at the entrance to Phin Ho village (which used to be a French-colonial military airport) and begin trekking to reach 2,800m height of Lao Than Mountain.
We strongly advise you to study the road well before the trek or have local people to guide you. More importantly, remember to bring enough dry food for your whole journey.
Lung Cung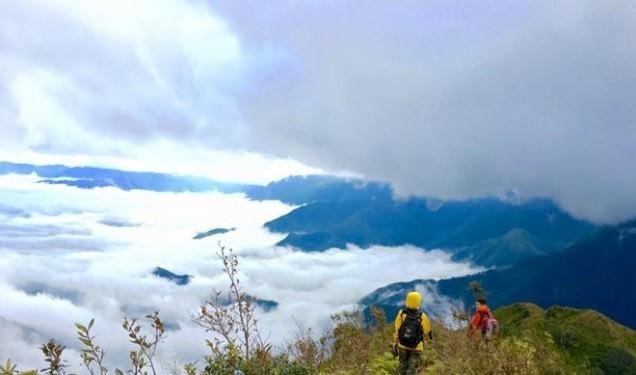 Named after a village located deep in the most rugged mountains in Nam Co commune, Mu Cang Chai district, Yen Bai, Lung Cung trekking will take about two days and one night in the forest to reach the top and go down to the foot of the mountain.
There are three different directions for you to choose: Thao Chua Chai village, Lung Cong village, or Tu San village. The path goes through the primeval forest with a picturesque landscape. On the way, you will be immersed by unique vegetation or beautiful maple foliage.
Wishing you all have safe, fun, and memorable experiences. Please feel free to contact us if you want to have more information about best places to trek in Vietnam.